Discover more from dont-forget-to-be-human
Meditations on Being Human in Times of Great Change
2: Re-imagine South Asian Mythology, or Make Indian Demons Scary Again
Growing up, I loved the epic qualities of the Ramayana and the Mahabharata. They were full of the fantastic. Gods meddled in the world of mortals. The will of cosmology, space, and time continuously tested humanity's spirit. The brash magic of rishis had me tilting my head at canonical Western fantasy.
Let's be honest. Gandalf can't hold a candle to Vishvamitra. Could Gandalf create an entirely new universe with its own creator god? Doubt it.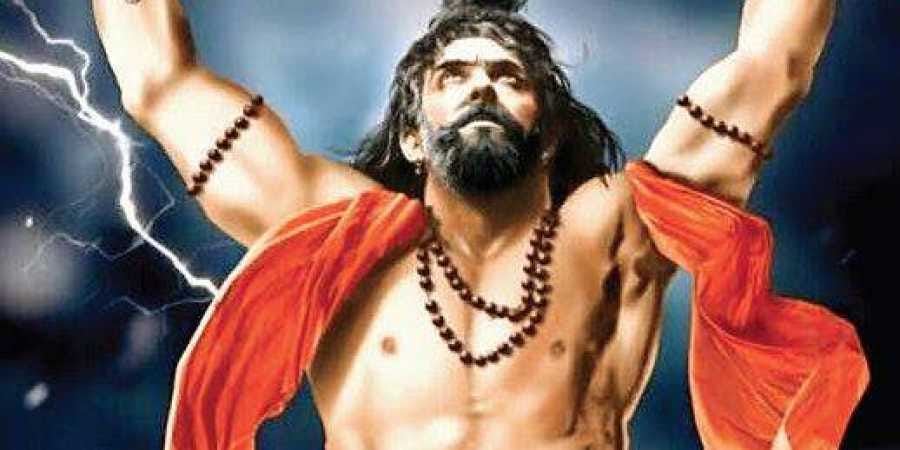 Source: Indian Express
Between the books (C. Rajagopalachari ftw), the TV shows, or the thousands of comics, there was no dearth of media to devour. When we took trips to India, I'd buy so many my suitcase heaved with them, likely annoying the customs officer who flipped through each book, thinking he'd find contraband in an eleven-year old's fantasies.
Back in the US, I'd anxiously wait, checking the mailbox a few times a day for new Tinkle or Amar Chitra Katha comics to arrive. When most kids were asking, "Are we there yet?" I was asking, "Are they here yet?"
Even the local Temple's volunteer librarian must have lost patience with me.
Sorry, Meenakshi Auntie.
But, something in these comics struck me as foolish: the bad guys were depicted like buffoons.
A rakshasa was usually a large-bellied giant, the only monstrous thing about it was a hideously unkempt mustache. A pisach looked as terrifying as Casper the Friendly Ghost. And of course, there was the shirtless demon whose sole dismaying attribute was its outlandish pectorals, which were about three times the size of its head.
They were comical, not scary.
Vichitra Khopdi, a Hindi comic, depicts one of these fearsome-but-not-really creatures here.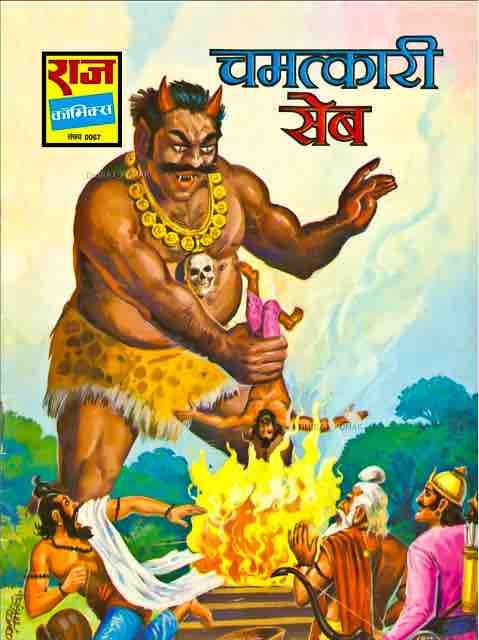 Here we have a bad guy who is a giant. Of course, he has the mustache too. Can't forget the diabolical facial hair. But, why the horns? Isn't that a Christian thing?
Honestly, I can think of a very friendly uncle who just needs a gold chain and a leopard print skirt, and he could go as this giant for Halloween.
In the Mahabharata, there is the story of Bheema and Bakasura. I'm summarizing here, but as the story goes, Bheema was a powerful hero. Bakasura was a rakshasa who was fed a diet of small children from a village every year. Because Bheema was the hero of this particular story, he goes off to fight and destroy Bakasura.
According to Tinkle, this was what Bheema was up against: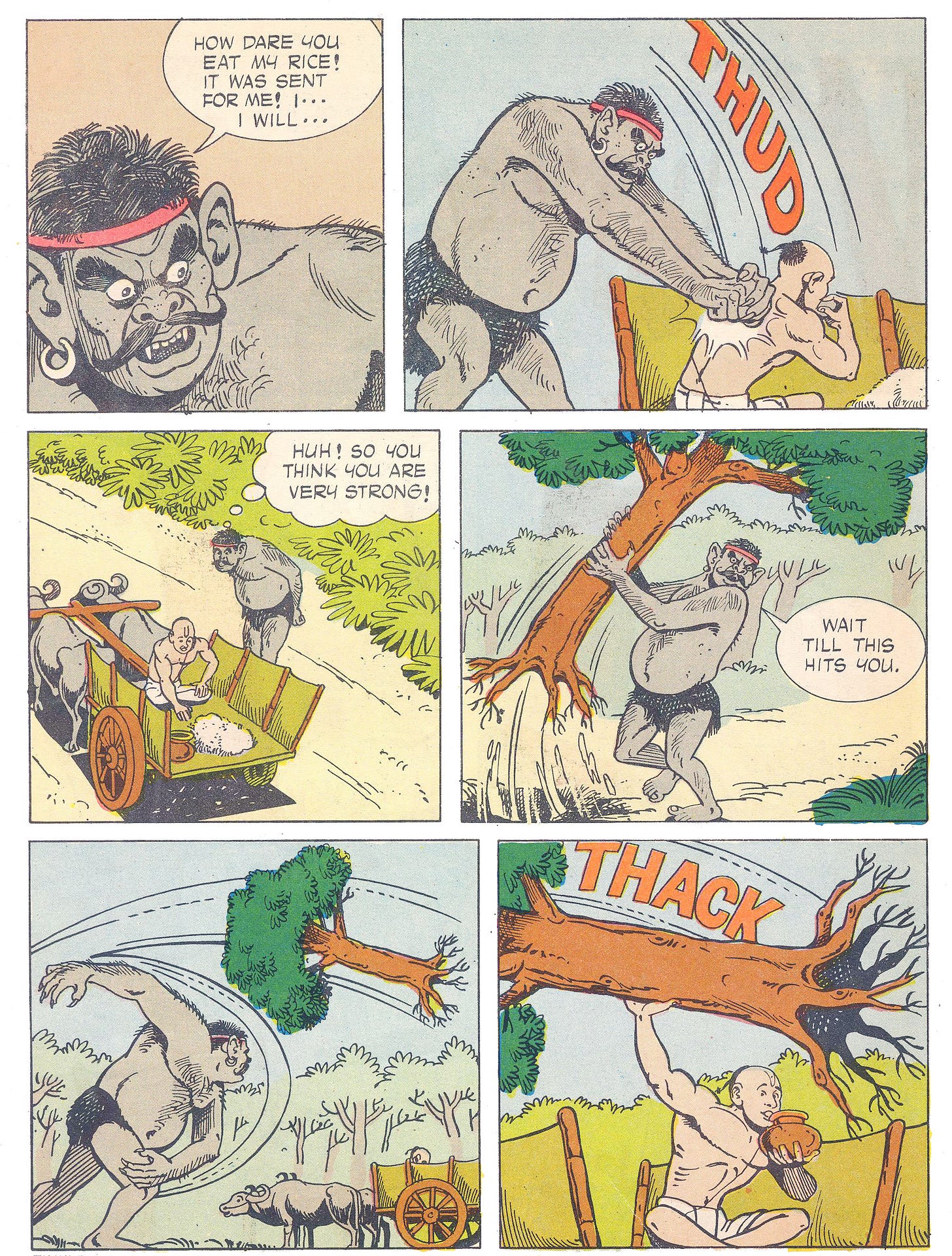 Are you trembling? Are you cowering in worry for our hero, Bheema? 
Probably not. How is this intimidating? 
It's not.
Moreover, some of these depictions didn't make any sense.
With this next one, I have no idea what's going on. There's a couple—both look elated—sitting on a giant skull traveling the skies. They look like they just got married and are going on their honeymoon, but the guy has a garland of skulls and a sword?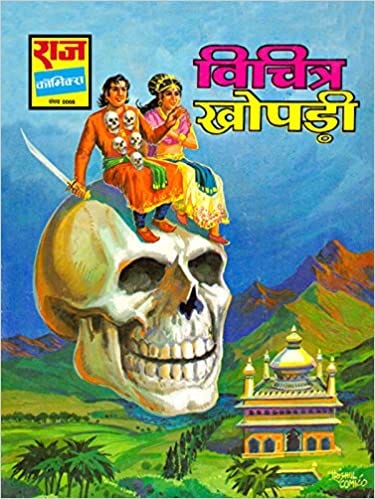 Source: https://www.amazon.in/Vichitra-Khopdi-Raja/dp/8184914725
That skull looks a little too happy too.
Are these meant to frighten us? If so, who is scared by this?
Why can't bad guys, be well, scary? Alarming. Frightening.
When I think of a bad guy in comics, I think of guys like Bane or Venom. Characters depicted in terrifying ways. Their maws drip with hatred, their bodies with blood, and when they have their weapons (or claws) out, you are a little worried about your favorite superhero.
Oh no, is Batman going to make it? What, no way, how is Spiderman going to do this?
The Joker is the scariest of them all: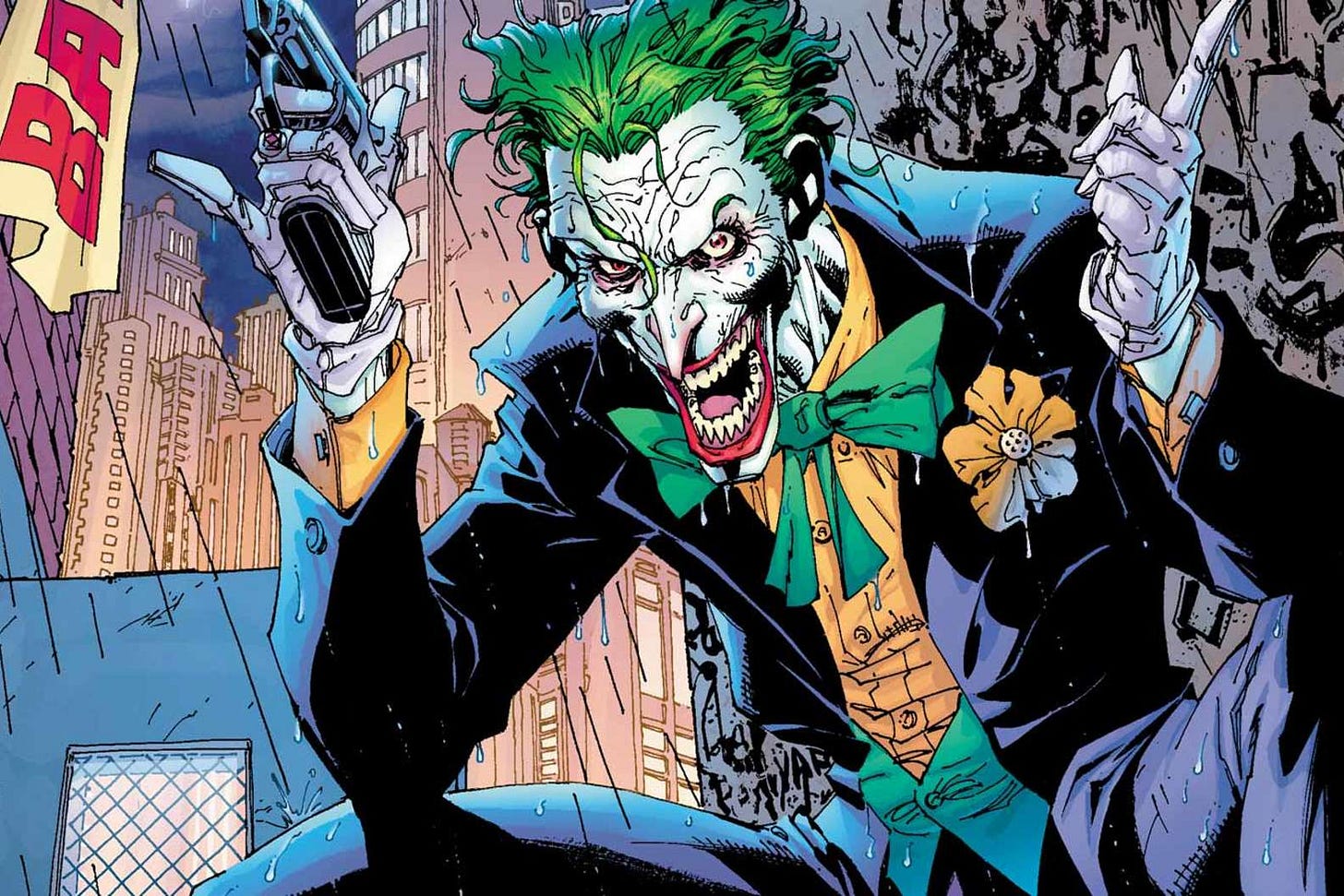 Source: Thrillist
Indian mythology could fill encyclopedias with vile, brutish creatures: rakshasa, asura, naga kings and queens, ghosts, ape-men that kill each other over petty grievances. There is no shortage of them.
So why can't contemporary media modernize their depictions?
Luckily, it is. Recently, there's been a wave to modernize Indian mythology. Illustrators are taking up their pencils and trying their hands at taking the mythos to new levels. They're doing an amazing job at it.
I'm excited to see where their re-imaginations take us. I'm also excited to take inspiration from their innovative work. We'll soon see a Bakasura who gets us worried—at least for a moment—about Bheema.
Onto some other thoughts:
New favorite word: Misology, defined as 'the hatred of reasoning; the revulsion or distrust of logical debate, argumentation, or the Socratic method.' What a word for the times.

I'm highkey impressed with the amount of educational information on Instagram—it's not just fitness bodies and cooking and travel anymore. Vishal Ganeshan's Hindoo History curates old news clippings to show how Hindus have been represented in America.

Also, I'll recommend Vishal on Twitter. He's dialed into diaspora debates like none other.
Publication news:
I have a couple of new pieces out.
Until next time.